Reservations
:
A nonrefundable deposit of 25-30% of the total rental fee is required at time of reservation for rentals of 3 – 20 days. For rentals over 21 days, a deposit of only 25% of rental fee is required, capped at a maximum of $750. Payment for deposit is to be done via primary driver's credit card. Once this deposit is received, the reservation will be confirmed. Full payment for the remainder of rental fee and any additional equipment, optional insurance or mileage package added following confirmation is then required upon pickup of the rental vehicle.
Click here now to check availability on our cheap campervan usa rentals
Call us today at 1 (415) 386-2693 or Toll Free: +1 (888) 567-8826.
Payments:
Payment for the rental must be made in U.S. Dollars with the primary driver credit card. We accept Visa, MasterCard or American Express. We also accept payment for the remainder of rental in cash, with a debit card or with travelers checks at the time of Van pickup. Renter must also hold a proper Credit Card and this card will be used for the required security deposit (see below for further info). Sorry, we do not accept personal checks. All rentals require a valid credit card to rent from us. 
Debit card holders must speak with rental associate BEFORE sending a reservation request.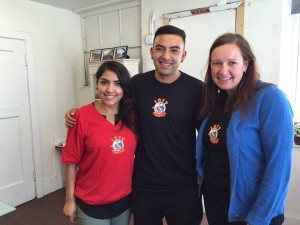 Cancellations:
All cancellations must be made in writing to Lost Campers Inc., via email is acceptable. ALL booking deposits are nonrefundable; For cancellations made 14 days or more prior to pick up, we will hold your deposit as a credit on file, minus a $45 cancellation fee for up to two years from the cancellation date, this way it can be utilized on a future booking with us. Cancellations made 13 or less prior to pick up, the deposit is forfeit.  
Security Deposits:
Before delivery of a Lost Campers vehicle to Renter, a security deposit is required. The security deposit is currently $400, which will be taken as an authorization (not a charge) on the primary driver's credit card. Please make sure the funds are available on your card. This cannot be done with cash, a debit card or prepaid travel money card. It can only be on a credit card owned by the primary driver who is present in the office at the time of pickup. This authorization will be canceled upon the return of the vehicle if it is deemed undamaged, clean, all equipment is returned and in the same condition as when rented, and the vehicle is returned with a full tank of gas, as per the terms of this Rental Agreement. A credit card in the driver's name is required to rent a Lost Campers vehicle.
If you DO NOT have a major credit, you must speak with a rental associate BEFORE sending a reservation request.
Our Insurance is very simple and uncomplicated. See our insurance page for further information.  Insurance selections can be made at the time of booking or at the time of pick up. Insurance cannot be added to a rental once the contract has commenced and you are on the road.
Driver's License/Proof of Identification/Minimum Age:
All drivers must hold a full and current driver's license that is valid for the duration of the rental period. At least one driver must have a major credit card in their name. Further proof of identification may be required for foreign drivers.  
If the driver's license is not in the English language an international driving permit or an accredited English translation is required. Foreign drivers will also need to bring their passport to pick up. Drivers must be at least 21 years of age and have had a motor vehicle, driver's license for at least one year.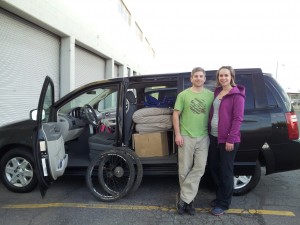 Additional Drivers:
 The rental cost includes two drivers. Lost Campers does not charge any additional fees for the second driver.  Additional drivers are subject to the same driver's license requirements as the primary driver. No more than 2 drivers are permitted per contract. Both drivers must be present at the time of pickup to sign the rental contract in person. An additional driver can be added to the rental agreement at a later time than the initial pickup, by coming to a Lost Campers depot in person with their driver's license (and international driving permit and passport if applicable) to sign paperwork.  A driver cannot be added to contract if they do not come in person to a Lost Campers depot.
Vehicle Pick Up and Drop Off:
Lost Campers reserves the right to adjust pick up times according to availability. We stagger pick up times to avoid long wait times. If an adjustment is required, we do try to keep the amended time as close to the original request as possible. We ask that you try to be on time for your scheduled pick up. If a delay arises please contact us to assist you with rescheduling. We take our first pick up of the day no earlier than 9 AM and the last pick up of the day no later than 4:30 PM. Any delay past 4:30 PM will be subject to a rescheduling of the van pick up to the following business day. We are closed on all Sundays and major holidays for pick ups. We do offer after-hours returns when we are closed for business.
Lost Campers rental rates are based on a 24 hour period which begins at the time of pick up. Vehicles are available for pick up at the designated time on the first day of the rental. Vehicles must be returned by the agreed time on the drop-off date. A one-hour grace period will be given for the late return of a vehicle. A full-day rental charge will be applied once the vehicle is more than 2 hours late. No refunds will be granted for late pickups or early return of vehicles.
Minimum/Maximum Rental Period:
The minimum rental period is 3 days in LOW season, 4-5 days in MID seasons and 5-7 days in HIGH season. Exceptions may apply. The minimum rental period may be longer over busy periods (usually last half of July and early August or around festival dates). We are able to rent our Campers for up to 90 days at a time. For rentals over 60 days, special arrangements for a vehicle exchange at one of our locations must be made at the time of booking.  For lengthy rentals please email reservations@lostcampersusa.com for further details and we can provide you with the best possible quote and information prior to booking.
Lost Campers USA Terms on
Mileage:
Daily Rental Rates include 100 free miles per day. Extra miles will be charged at 25c per mile upon return. The following mileage packages can be pre-selected and 
purchased at a daily mileage rate for additional miles.
Double the included mileage for $15 a day which gives you a total of 200 miles per day cumulatively.
Unlimited miles can be purchased for $20 per day for

Sierra and Hotel Sierra only.  

Wanderer class rentals can request a 300 mile per day included mileage package for $20 per day.

This van class is not eligible for unlimited miles. Consider booking a Sierra Van if you are wanting an unlimited mileage option.
*We do not offer mileage packages for lengthy rentals exceeding 26 days or more for the Wanderer Class Vans. 100 free miles per day will be included in the daily rate to average out over the course of the rental and any excess mileage is 25 cents per mile paid upon return. If you are looking to book 26+ days and need a mileage package we recommend booking a Sierra Class Van. *Mileage packages must be selected no later than the time of pick up. Mileage options cannot be added from the road, so be sure to plan ahead of time.
Road Restrictions:
Driving on unpaved roads (excluding county and state maintained roads), dirt roads, restricted areas and 'off road' areas is not allowed. Renter is liable for all damages to vehicle, tires, towing charges and other expenses as a result of a breakdown, collision, or other, associated with operating Lost Campers vehicles in these areas. Lost Campers' insurance protection will also be null and void.
The following are restricted areas:
Anywhere in Mexico and Alaska
Anywhere in Canada, unless a specific Canadian coverage card is pre-purchased from Lost Campers at pick up. A Canadian coverage card can be purchased at the Van pickup for a one-time fee of $55. Wanderer Vans are not permitted to travel into Canada.  Discounts or free card for lengthy rentals may apply. This card allows the vehicle to be taken into Canada and allows access only to the Canadian States bordering the USA. (i.e., no travel to Yukon, Northwest Territories or further north than Edmonton, Alberta; etc.) Travel to Canada is taken at your own risk. Renter is responsible for towing related charges to the Rental Vehicle and for any and all related problems while traveling in Canada.  If a breakdown occurs in Canada renters will liable for all towing charges and/or all costs to return the vehicle to a Lost Campers depot. Renter is liable for all towing costs in the event of an accident.
Death Valley.  Lost Campers will allow our vehicles into Death Valley.  Permission is required from Lost Campers for entry and special terms and conditions apply. Contact for more details. 
Any unimproved road, trail, track (excluding county and state maintained road)
Any off-road areas (dunes, beaches, riverbeds, logging roads, forest trails, dirt trails etc.)
Burning Man Festival – Travel to the Burning Man festival in the Nevada desert, located just outside of Gerlach, Nevada, otherwise named 'The Playa' OR to this location at any time of year is not permitted in a Lost Campervan, due to the extreme nature of this area, unless prior permission has been granted. Please email for our special festival rates and further information. A $2000 fine will be imposed if a Lost Campervan is taken to this area without Lost Campers permission.
Lost Campers USA Terms on
One-Way Rentals: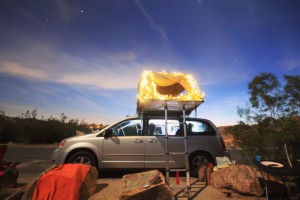 One-way rentals are available between all of our 4 locations, San Francisco, Los Angeles and Salt Lake City. We require a minimum rental period of 3-7 days for a one-way rental depending on availability. One way fees start as low as $50 with a maximum of $325. The drop fee depends on the length of rental and travel dates. Our instant quotes & reservation page will quote current offers for one way drop fees and will show discounted fees for lengthy rentals generally over 40 days long. We are also working on obtaining more Lost Campers depots around the country, so check back with us soon!
Some Rules:
Please do not smoke inside Lost Campers vehicles. Step outside to smoke!
No pets are allowed (except designated service dogs) in the vehicles. Certain pets may be accepted with prior consent and with an additional pet deposit. Please contact Reservations.


Towing of anything by a Lost Campers vehicle is prohibited at all times.

All passengers must use vehicle restraint systems (seatbelts) while the vehicle is in motion. No passenger is to travel in the back of the vehicle unless factory seats and seatbelts are installed and used. Sorry guys, gals, and pals, no sitting on the bed while the vehicle is in motion. Lost Campers does not accept any liability for any injuries incurred to passengers traveling in the back of the vehicle and/or while not using seatbelts.
Lost Campers USA Terms General Conditions:
All rentals are subject to the terms and conditions of Lost Campers' Rental Agreement and its Addendum and any supplemental Rental Agreement. Rates, policies, terms, and conditions are subject to change without notice. Lost Campers USA reserves the right to refuse service to anyone. Lost Campers assumes no responsibility for any detention, delay, loss, damage or injury that Renter might experience, no matter how it is caused or by whom.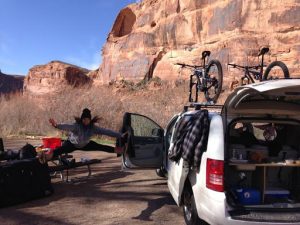 We are super proud our "Happy Campers" customers have given Lost Campers more 5-Star reviews in Yelp and Google than any other passenger van rental company in the Western US. 
Click here now to check availability on our awesome campervan rentals
Call us today at 1 (415) 386-2693 or Toll Free: +1 (888) 567-8826.
The above is a summary of lost campers USA Terms and Conditions that form part of Lost Campers' full Rental Agreement. For detailed conditions, refer to the Lost Campers Rental Agreement and Addendum. The Lost Campers Rental Agreement and its Addendum thereto must be signed on the day you rent your campervan. Renter will receive a copy of the Rental Agreement, along with a copy of its Addendum thereto, upon delivery of the vehicle to Renter.
A full list of Lost Campers Terms and Conditions can be supplied on request.