USA Business Hours:
Telephone Reservations & Customer Service Hours:
9am – 6pm (PST) Monday to Friday. 9am – 12pm on Saturdays. We keep shorter hours on the weekends and holidays. Leave a message with your email address and we'll get back to you about your San Francisco or Los Angeles campervan rental enquiry.
Depot Hours of Operation:
By appointment only. Schedule your pickup during regular business hours: Monday-Saturdays 9am – 4.30pm. 
After-hours pickups may be available on Sundays. We are closed for pick ups on major holidays.
*We have amended pick up hours on some days before and after major holidays. Please contact us with any questions.
Drop-off times: Returns are permitted 24 hours a day, 7 days a week. We do not charge after hours drop off fees, but our rates are charged on a 24-hour cycle. Drop off information is found in the binders found in your van and is emailed to renters.
After-Hours Pick Up:  Please see our Terms page for more information.
Holiday Closures: Monday of Memorial Day weekend in late May, 4th July, Monday of Labor Day weekend in early September, Thanksgiving, Christmas Day, New Years Day. (Rental returns are permitted on these days using our after hours drop off instructions.)
Early Day Closures: Last campervans for rent pickup time will be at 12pm on the Eve of Thanksgiving, Christmas Eve and New Year's Eve.
Delayed Opening Days: Pick ups on the days following a major holiday will be scheduled between 11am- 4.30 pm only. No early morning pick ups are available.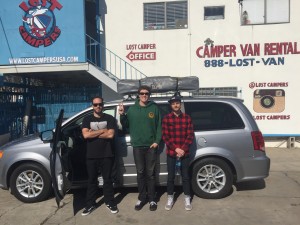 Rent a Campervan

Quick Quote
San Francisco Depot Address
The Lost Campers San Francisco depot is located within the city limits, just 10-12 minutes from SFO airport and a 5-7 minute drive from downtown SF, in a very convenient location. Highways 280 and 101 are 1 minute drive from our office, which make for an easy start to your road trip.
2955 3rd Street
San Francisco, CA 94107
(Between 25th and 26th Streets)
Viewing vans without a reservation is done by appointment only.
If coming from the city of San Francisco, the Third Street Light Rail MUNI Line, (T-Line) departs from the stations along Market Street approx every 15 mins. Disembark on the 23rd & Third St station and walk up the 2 blocks to our depot on Third Street at 25th Street. Current cost is $2-3 per person.
BART, the Bay Area rail service, can be taken from SFO or Oakland airports (under $10 per person) to the downtown stations along Market Street, where you can change onto the T-line.
Taxis are also relatively inexpensive from SFO airport ($30-35 one way) and from within the city center ($10-15).
Los Angeles Depot Address
The Lost Campers LA / Inglewood depot is located just a quick five minute drive from LAX Los Angeles International Airport.
Highway 405, the major highway that runs from San Diego in the South, right through the center of the city and leads to Northern California, is also a one minute drive from our office. The easiest way to reach the LA depot is by taxi or ride-share. Can't get easier than that!
8820 Aviation Blvd
Inglewood, CA 90301
(Between w Hillcrest and W Manchester Blvd)
Viewing vans without a reservation is done by appointment only.