Campervan Rental Frequently Asked Questions & Answers
Read on to answer all your questions and get a step closer to starting your Journey with Lost Campers…
Why should we rent a van from Lost Campers?

↓
Here at Lost Campers we pride ourselves on offering quality, reliable campervans for rent, with budget rates. Traveling in a campervan is a wonderful way to stay budget savvy and get the most out of your USA trip. Our campervans provide your rental car and hotel all in one great package, along with everything you need for cooking and dining.
With cozy full sized beds that comfortably sleep 2 adults (perhaps 3 or at a stretch 4), all of your cookware, dishes and fresh bedding are supplied by us, along with much more. Cruising in a campervan, you'll have the freedom to be spontaneous and visit a variety of places while being discreet as our vans are completely free of advertisement. Campervans are much easier to drive and park than a motorhome and they will save you on your fuel expense as well. Go ahead and reserve your Van today!
We also have awesome budget pricing, excellent service and convenient offices near the airports in San Francisco, Los Angeles and Salt Lake City.
Not bragging (well kinda…) Lost Campers has more 5-Star reviews in Google+, YELP and Facebook than ANY other campervan rental company in the U.S. West. 🙂

Click here now to check availability on our cheap campervan usa rentals
Call us today at 1 (415) 386-2693 or Toll Free: +1 (888) 567-8826.
How far ahead should I book my Lost Campervan? 

↓
The sooner the better! During spring, summer, fall and around Holiday weekends our schedule fills up very quickly. And also on those warm California winter weekends! Also, you will likely get a better deal for booking earlier as the rates may rise the closer you get to your desired travel dates.
Do you offer one way rentals?

↓
Yes. One way rentals are allowed between all of our locations. One way travel is based on availability. Relocation fees will apply. We do not offer one way dropoffs to other remote locations where we don't have a depot. In the winter, sometimes we have special one way rates.
Do I need an International Driver's License to rent with Lost Campers

 ↓
Yes. Further proof of identification may be required for foreign drivers.  
If the driver's license is not in the English language an international driving permit or an accredited English translation is required. Foreign drivers will also need to bring their passport to pick up. Drivers must be at least 21 years of age and have had a motor vehicle, driver's license for at least one year.  We allow 2 drivers per rental contract, both drivers must be present at the time of pick up to sign the rental agreement in person.  All drivers must hold a full and current driver's license that is valid for the duration of the rental period. At least one driver must have a major credit card in their name.
Am I required to purchase insurance coverage from Lost Campers?

↓
No. Insurance and the options you choose are completely your decision. Many renters utilize their own coverage for their rental and this is acceptable with us, however it is the renter's responsibility to be aware of what their policy covers. If you decline our optional insurance products, the risk falls on you to ensure you have appropriate coverage from elsewhere or be prepared to cover the cost of any damages or claims. Please see our insurance page for further information on our optional insurance products to reduce your liability. Renters are fully liable for the campervan whilst under the rental contract unless you purchase our Collision Damage Waiver.  
 

Can we park our car at your depot while we travel?

 ↓
Sorry, we do not offer parking at our depots. We recommend utilizing public transit, rideshare, a friend or taxi to reach us or if you're a superhero, spread your wings and fly. Please google search "long term parking" along with your pick up city and you will find several sites that provide great information on parking lots near our depots that might work for you. Here is a link to one example:
Does "100 free miles per day" mean we are restricted to travel only 100 miles per day?

↓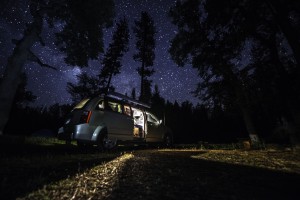 No. The 100 free miles per day is averaged over your trip in whatever way you see fit. Any excess mileage is 25 cents per mile. For example, if you rent for 7 days, you'll have 700 included miles. You can drive 350 on the first day, then 350 on the last day and you don't exceed your included miles. No need to be a whizz-kid driver though and blow all your miles in one day. Relax…see the sights! We'd also love and expect you to look after our van 🙂
If you do plan to exceed your free mileage, then you can pre-select a mileage package:
For $19 per day you can double your included mileage (200 miles per day included)  

$25 per day you can request unlimited miles if renting a Sierra or Hotel Sierra

The  Wanderer Vans qualify for a 300 mile per day limited package for $25 per day,  so if you want unlimited miles make sure you book the correct van for this option.
All mileage packages must be requested and purchased no later than upon pickup of your van. They cannot be added onto your contract during your rental or upon return. All excess mileage is 25 cents per mile, paid upon return.
Mileage packages are not offered for rentals that exceed 26 days in length.
Click here now to check availability on our cheap campervan usa rentals
Call us today at 1 (415) 386-2693 or Toll Free: +1 (888) 567-8826.
How do I figure out what mileage option will work best for me?

 ↓
To estimate your mileage, we recommend Google Mapping your itinerary, then add approx. 20% to your total mileage (this helps account for sightseeing, to and from stores, and just getting Lost). You can then make a confident decision on what mileage option will work best for you. **We do not offer mileage packages on bookings longer than 26 days in length.  For lengthy rentals, it is usually more cost effective to utilize the free 100 miles per day and pay 25 cents per mile for any excess mileage than purchasing a mileage package. This also discourages tired, long haul driving that puts everyone at risk.
What comes in the dish kit that is included in the van?

↓
Our dish kit includes: Plates, bowls, cups, mugs, fry pan, saucepan, prep plate, serving bowl, chef knife, cooking spoon, spatula, tongs, wine opener, can opener, forks, knives, steak knives and spoons. We include enough dishes and utensils to accommodate the number of people traveling. These basic and practical kits are included with your rental for free. See our list below of items NOT included to help with further planning.
What bedding is included with my rental?

↓
Each bed comes with fresh linen – a fitted sheet, 2 pillows with cases and a warm Queen size comforter with fresh case. This bedding is included with your rental for free. Check out how easy and comfy the beds are in this 1 minute video.

Is there a mattress included in the rooftop tents and what type of mattress is found inside the van?

↓
Yes. There is a comfortable, 3-inch mattress in all of our roof tents. The mattresses used inside the van are also firm but incredibly comfortable, for which we get many compliments. All mattresses are one whole piece and do not split into uncomfortable sections like found in other RVs or Campervans. We are certain you'll have a great night sleep. Who doesn't when camping under the stars?! Check out this video.

What are the items not included in the van that we should plan to purchase or bring ourselves?

↓
We do not include nighttime/outdoor lighting- no lanterns or flashlights

The dish kit does not include a cutting board, colanders, pot lids, coffee press or tea kettle, however, water can be boiled in the included pots. Coffee filter stands can be found for a few dollars in department stores or coffee shops like Peets and work a great for brewing coffee by the cup. Picking up aluminium foil and fashioning pot covers when needed is a great solution for the lids.

Propane for the 2 burner stove is not included. These are small green propane canisters that can be found at most grocery or box stores in the camping section or near the bbq charcoal. Coleman is the most common brand you will see, but other brands also work with our stoves. They cost roughly $2.50-$8 depending on where you are at, one tank will last approximately 3-4 days cooking two meals per day. Sometimes we have partially used canisters left behind that we pass on to the next customer but we don't guarantee to have them available at all times.

We do not provide tie-down straps for roof stored luggage or equipment – not all of our vans offer roof racks. If you require roof racks you need to request them ahead of time and pay a roof rack request fee to ensure you are allocated a van with roof racks.

Bring your own bath towels.  Also, a good idea to bring a tea towel and any extra supplies that will make your life on the road more comfortable.

A great attitude ready for fun and adventure! Happy to provide motivation and encouragement if required.
What extra equipment can I rent from Lost Campers?

↓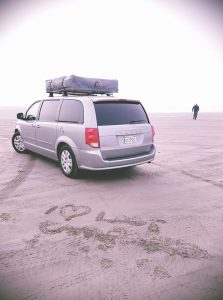 GPS, Power Inverters, 12-volt coolers, Sleeping Bags, Solar showers, Electric Heater with Extension Cord (for campsite with external electric hookups) Bike Racks, Ski Racks (SLC only), Rooftop Storage Bin and Child Car Seats. *Please be aware that even with a prior request, we are unable to guarantee extra gear is in stock at all times; this equipment is rented on a first come first serve basis, however, we do our best to meet requests.*
Do we rent snow chains?

↓
We do not rent snow chains, but unlike many car rental companies, we do allow the use of them on our vans. You will need to provide your own snow chains if you are traveling to areas where they might be necessary. Ensure they are installed correctly. After installing, drive 2-3 minutes, then stop the car, get out and re-check that chains haven't shifted and are still in the correct place. Damage from snow chains is the renter's responsibility and this is not included under any insurance purchased from us. Snow chains are easily found at most auto parts stores such as: Pep Boys, O'reilly or Autozone; they can also be purchased at most Walmarts.
What is the longest amount of time that I can rent a van for?

↓
 60 days per the rental of one van. So, one reservation can be set up for 60 days at most. Multiple reservations can be made for more time, however, a van exchange and new contract are required between every 60-day reservation. Please contact us should you wish to rent for longer and we can discuss your options further.
What are your opening hours and your depot address?

↓
Do we have to camp at a campground?

↓
We recommend camping at campgrounds as they are safer and offer the basic necessities required for humans. However, we leave it to your discretion where you would like to camp. As long as there are no signs prohibiting camping or overnight parking you are likely okay to stay there at your own risk. Remember that our campervans are not off-road vehicles; insurance will not cover off-road incidences and these vans have very low clearance. Driving on beaches is also considered off-roading and not allowed. Please use your common sense when it comes to the safety of the area where you wish to camp, along with the location and terrain of your chosen free campsite; paying for vehicle damage is much more expensive than the cost of a campground.
Do you recommend reserving campsites ahead of time?

↓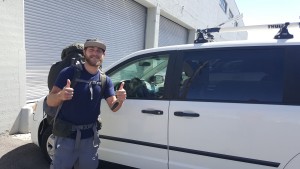 Absolutely. From May through October many campgrounds book out very quickly. All of the National Parks and some State Parks leave a small section open for first come first serve campers, but this will not guarantee you a spot. For example, those wishing to obtain a first come site in Yosemite during summer, need to get there at sunrise if you wish to have a possible chance. Many of our renters who don't have reservations are usually very concerned when they first head out on their camping adventure, especially if heading to the popular spots in the height of summer. However, we hear stories like this all the time:  "it all worked out and many last minute campsites were found". If you can, try not to leave it to chance.  Here are some websites to help with your campground reservations:
*You can also find campground recommendations on the Lost Campers Blog! We are adding cool campervan camping and vacation tips and photos weekly here:
Do you offer airport or hotel pick up/drop off?

↓
We do not offer airport pick up or drop offs. However, all of our depots are conveniently located within 7-15 minutes of their major airports. The easiest way to reach us is by taxi, rideshare (Uber) or public transit.
Can I use my MP3 or iPod to listen to music over the van stereo?

↓
Yes, all vans offer an auxiliary plug that allows you to play your tunes over the van stereo.  A double-ended, male auxiliary cord that will plug into the headphone jack of your device and also into the aux-in/headphone style port in the radio, is required.  We do not offer these however, you can find these auxiliary cords for a few dollars at any electronics store as well as many truck stops or highway gas stations. Our vans also offer CD players.
Are there charging outlets in the vans?

↓
Yes. All of our vans offer 12v lighter outlets for charging cell phones and other devices. Most of our vans do not offer USB connections, however, you can bring along your own USB lighter adapter. These are also found for a few dollars at electronics stores or gas stations. 
What age do I have to be to rent a Lost Campervan?

↓
All drivers must be 21 years or older. Sorry we cannot rent to you if you have not yet turned 21. We do not charge youth fees for drivers aged 21-24 like some other rental companies. 
Will suitcases fit easily in your Campers?

↓
We recommend bringing backpacks or soft bags as these will fit more easily into our vans. However, we understand it is easier to travel with suitcases particularly when flying. You can certainly make it work if you do bring suitcases, especially if you only have 1-2 OR a few which are small/medium in size.
May we extend our rental after embarking on our trip?

↓
Yes. Extensions can be done from the road, however, they are based on availability and cannot be guaranteed, but we do our best to make it happen if we can. Call or email us as soon as you know you wish to extend, as we'd love to host you on your amazing adventure for as long as possible.
Traveling, relaxing and hanging out in a Lost Campers Van will make your trip around the USA something to remember!!