Below is a list of our fantastic
budget

campervans and all of our awesome inclusions!
Getting "Lost" is the most fun and affordable way to travel the United States!
Backpacker's alternative to pricey RVs!
A nice step up from a ground tent for people that do not need glitz and glamour, but want a practical and budget-friendly way to explore beautiful places and have a comfortable base camp to return to at the end of the day. Our budget campervans for rent are used for camping, road trips and see plenty of adventure. They are serviced regularly, come clean and are perfect for friends and family who love the outdoors and backpacking the world. 
Our Campervans have absolutely no signs, advertising or crazy colors on them.
Blend in with the locals while traveling through this amazing country. We've heard it a trillion times from our renters … they prefer to drive a van that doesn't scream "I'm a tourist". A sign-free van is a hassle-free way to road trip America. Campervans also leave a smaller environmental footprint than the rental of larger RVs. Lost Campers is your answer to a brilliant road trip. Travel our way! Travel Lost!
All of our Campervans to rent come equipped with: (Many other companies charge extra for this)

One very comfortable, full-size bed (we use a whole mattress and the feedback is these beds are more comfy than most motels!)

Fresh fitted sheet and pillowcases, pillows and cozy duvet comforter with cover

Privacy curtains on all 4 sides of van

Some of the largest storage areas of any campervan in the US 

Small folding table & 2 camp chairs (extra chairs provided based on availability)

Large RV side awning (not included on Wanderer Class or Hotel Sierra Class)

Great stereos, air-conditioning/heating

Full outdoor kitchen & cooking kit:

Double burner portable propane stove (*propane not included)

Large ice chest cooler

 A dish kit with all the basics you need to cook and eat

Check out our informative FAQ page for further details and instructional videos!
Things NOT included that you may want to bring along:
Propane for the stove. Our stoves require the small, green canisters found at most grocery stores. They normally cost a few dollars each. One canister can last 3-4 days, cooking 2 meals per day, on average.

Night time lighting. Be sure to bring along headlamps, flashlight or lanterns

The dish kit does not include a kettle, coffee press or cutting board, pot lids are also not included, aluminium foil is a nice remedy if you need to cover a pot while cooking.

Paper towels and a scrubbing brush

Bath Towels

A lighter or matches
For further inclusions and rates information, please see our Rates page and the descriptions below.
All this plus great customer service from a family-owned business is why Lost Campers has more 5-Star Yelp & Google+ reviews that ANY Campervan rental company in the US West.
Want to know our campervan for rent availability right now?
(We often book up 2 – 4 months in advance May – October)
Sierra Class Campervans for Rent
Dodge Grand Caravan or Chrysler Town & Country
Our most popular rental!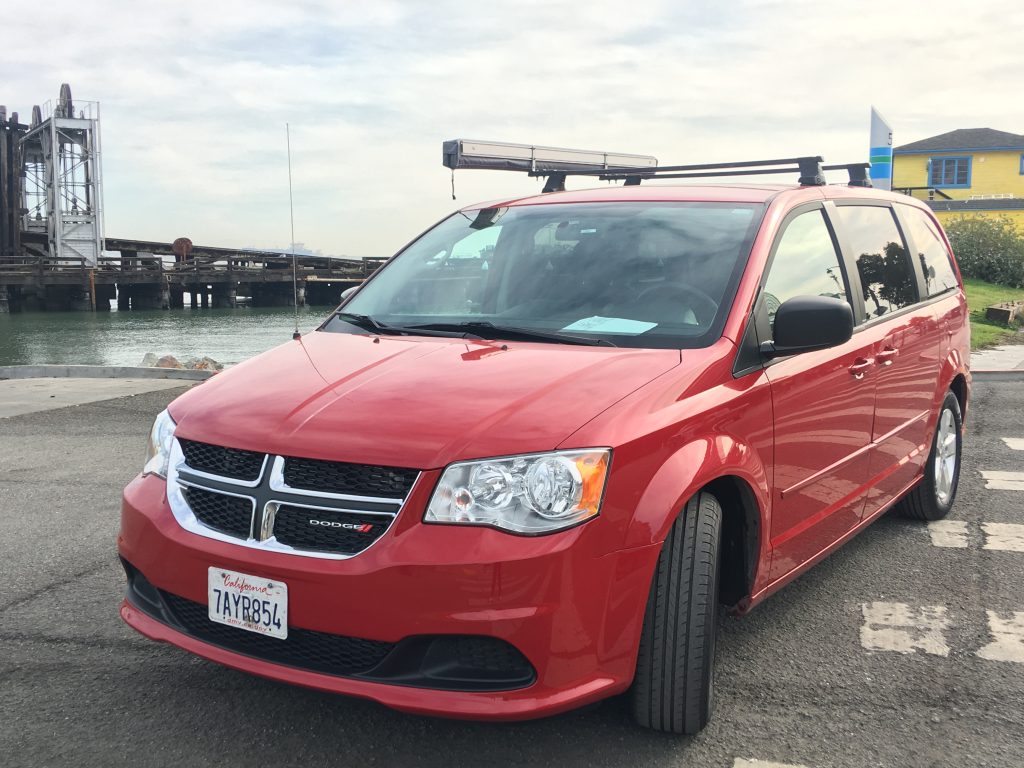 Fantastic campervan to drive and incredibly comfortable to sleep in

Our most popular model which is more suited for long distance trips than our other classes. 

5 people can travel – 2 people up front (incl. driver) and 3 in the rear seating (we recommend 2 adults in the rear seat or 3 children)

2 child seats can be installed in the rear seating with ease (or 3 streamlined child or booster seats)

1 full size, very comfortable bed with good headroom – it's soooo comfortable!

Bed folds away allowing space for set up of an interior table with use of the rear bench for seating

Sink in rear of van with 5 gallon water storage and 5 gallon waste water tank

Sliding doors on both sides of vehicle, great for easy access to the bed

Best amount of storage space compared to other similar campervans on the market or add a roof cargo bin for added storage.

Age of vehicles: 2010 to present.  
Engine: 3.4 to 3.8 Liter, V6, Automatic transmission.
Fuel consumption: 18 city / 24 hwy mpg.
Dimensions: Length – 16.9 ft; Width – 6.4 ft; Height – 5.75 ft (plus an extra 5 ins with the RV awning).
Passengers: 5 incl. driver
Bed Size: Length- 6 ft; Width – 4 ft; 
Storage under bed: Deep well storage under bed. Length – 2ft; Width – 4 ft; Height – 3ft; Fits 2-3 backpacks and some smaller bags, also rear of the van there is more storage. Soft bags or backpacks still recommended as a vehicle support bar in storage box reduces space for large bags to fit, however you can manage with a few suitcases by also using other areas of vehicle.
Extras: Air-conditioning, 2x12v cigarette lighters, Tinted Windows, Stereo w/ CD player all with MP3 plug, No advertising! Plus we have additional camping equipment to rent to make your trip more comfortable and fun.
Hotel Sierra Class Campervans For Rent
Same as the Sierra Van inside, but includes a snazzy roof  top tent instead of the awning!
Exactly the same set up inside as the regular Sierra Van (see Sierra Van interior photos above)

Includes the rooftop tent instead of an awning to take the Sierra to the next level making it a "Hotel" Sierra

All other features of the Sierra class included, as described above under the "Sierra" Van information above

This rooftop tent is streamlined and discreet and sits on top of the van – you don't even notice it whilst driving!

The van has a very comfy, full-size mattress inside and comes complete with cozy bedding & pillows

Rooftop tent bed offers a 2-inch mattress is over 6 ft. long and 4 ½ ft. wide. A 6 ft 4 tall person can easily sit upright on the bed with legroom to spare. It comes with sleeping bags and pillows.

This option allows 5 people to travel in the Sierra van and 4-5 people to sleep comfortably (2-3 up, 2 down)

Easy access via ladder

Waterproof, warm, well ventilated and extremely sturdy tent

Opens up easily in approx 5-10 minutes and packs away easily with two people working together

Limited quantities book out early over the busy months- so booking early is recommended!

RV awning not included on Hotel Sierra van with the rooftop tent.
Roof bins and bike racks are also not available for rent with Hotel Sierra vans
Cool Campervans for Rent with Roof Top Tent Video
 Wanderer Class Sleepervans For Rent
A road savvy van with a basic set up and backpacker friendly rates!
 Dodge Grand Caravan/Chrysler Town & Country * 2008 – 2012 
*Please note that Wanderer Vans are not permitted to travel into Canada


Our Wanderer Class is our most basic (but still awesome!) sleepervan.  Totally discreet with no signs, these vans are perfectly suited for backpackers. Although they are the oldest vans (average mileage 200k +) in our fleet, these vehicles are frequently serviced, very clean and well maintained! Don't let the higher miles on the clock or the odd scratch and some minor wear and tear fool you, most often many vehicle parts have been replaced and upgraded. These vans are strong players. 
We are replicating the true backpacker style, budget campervan that you can find in places like Australia and New Zealand but after seeing some on offer there, we must be cheeky and say ours are in better condition and perfectly ready for your awesome, west coast USA adventure.
5 seats (2 front seats and 3 seats in rear – for comfort-ability, we recommend 2 adults or 3 smaller people in rear seats)

One super comfortable, full size bed (this is the same bed that is in our Sierra vans and shown in our 'How to open bed' video found on our FAQ page)

All have sliding doors on both sides of the vehicle

There is a storage area under the bed box, as well as storage in the trunk/rear of the van

Similar age to our Sierra class vans but these campers have a few less features and  higher miles on clock – still in good shape & well maintained. Great for laid back travels around California and bordering states.

 A simple set up with no sink or water storage, no awning (as offered on Sierra class)

Comes complete with cooking and outdoor dining kit – stove, outdoor picnic table and chairs, full dish kit, ice cooler – and full linens

Age of vehicles: 2008-2012

Engine: 3.8 Liter, V6, Automatic transmission

Fuel consumption: 16 city / 22 hwy mpg. 20 gallon tank

Dimensions: Length – 16.10 ft; Width – 6.5 ft; Height – 5.10 ft

Passengers: 5 seats total. 2 seats in front and 3 in rear. 2 child seats can be installed via the latch or seatbelt system, 3 child seats would be a squeeze

Bed size: Length – 6 ft; Width – 4 ft;

Bed folds away allowing space for set up of an interior table with use of the rear bench for seating

Storage under bed: Length – 2 ft; Width – 4 ft; Height – 3 ft. (Fits 2 small suitcases or sml/medium backpacks – a vehicle support bar in storage box reduces accessibility for larger suitcases – soft bags or backpacks still recommended for ease in this storage area)

Storage at rear of van: Deep well storage in trunk, perfect for 2-3 medium/large suitcases plus other small bags

All vans serviced every 4000 miles.
Extras: Air-conditioning, 2x12v cigarette lighters, Tinted Windows, Stereo w/CD player and MP3 plug, No advertising! Plus we have additional camping equipment to rent to make your trip more comfortable and fun
Looking to rent a Campervan for an extended trip?
If you are planning a lengthy trip, we will require you to check and maintain the essential fluids and waters to ensure proper  vehicle operation. We also assist you with arranging service for the van during your travels to keep it running tip-top. Parts of America can be extreme! If you are considering doing a large amount of miles, the newer Sierra Class is highly recommended.