Campervan Rental Equipment & Tips
Not sure what campervan rental equipment you need for your next fun adventure?  Well Lost Camper vans come with tons of cool stuff to make your van camping trip fun and functional.   But if you need some more cool stuff to expand your navigation, storage and more, here's some great optional campervan equipment for rent.  
GPS Navigator – Garmin or Tom Tom Navigation units that are easy to use so you can't Get Lost!!!  Turn it off on those days you DO want to GET LOST!
$6 a day (max $66)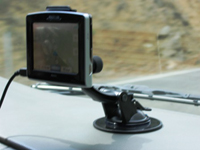 Roof Storage Bin – We use the Yakima space case for additional storage on top of the vehicles. This bin is a lockable container. You can store skis, snowboards and suitcases in the bin. The bin is 6ft in length and 2ft wide.  $10 a day (max $100)  We may not be able to offer this option for one way rentals between our locations. Please email for further details if you are traveling one way.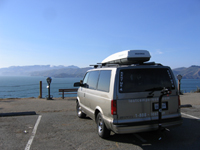 Heavy Duty Yakima Roof Racks – Although most of our vans have roof racks, if you need to guarantee racks or for safety and endurance of heavy items, we recommend requesting our heavy duty roof racks designed to hold kayaks and any other heavy equipment.  $5 a day (max $55)
Bike Racks – We have roof rack mounted Yakima bike racks designed to hold two bicycles. These racks only work on the regular Sierra van.  Not available on Wanderer vans, nor the Hotel Sierra or Redwood as the roof tents on these vans take up the entire roof rack space. $7 a day (max $98)  We may not be able to offer this option for one way rentals between our locations. Please email for further details if you are traveling one way.
DC Powered Cooler – We offer a powered cooler that acts as a fridge. It saves you buying ice whilst on the road. The powered cooler has an auto shutoff when the vehicle's battery hits a low voltage point, therefore these powered coolers are best for campervan road trips where you will be driving a few hours every day. This kind of driving will replenish your battery and keep the powered cooler doing it's job.  If you plan to park the van in one area for longer than 24 hours, you may need to supplement this cooler with ice as it will shut off to protect the vans battery/batteries.  Although these coolers have excellent seals and thick walls, they will still struggle if you are spending your time in the desert. It's hot out there. Help it out with some ice. They love the cool climates of the northern Californian coast or the mountains. $5 a day (max $55) (*There is a standard ice chest included in the rental already, the 12 volt cooler would replace this if rented.)
Power Inverter – Our power inverter plugs directly into the lighter/power socket on our vans to provide a 110/240 volt AC power supply to power accessories i.e., laptop, cell phones. Best for use when driving.  $5 a day (max$35)
Sleeping Bag – Sleeping bags for extra comfort and warmth while on the road. If you are looking for mountaineering quality, please bring your own. Ours are decent bags but not the kind you find on Everest. We often have lighter fleece blankets on hand that we can provide as a complimentary extra, if available. $20 one time fee.
Powered Heater – This provides heat for overnight camping, without running down the Van battery. This is for electric hookups at campgrounds only. Available upon request at no extra charge. Supplies are limited.
 Ski roof rack attachments – Salt Lake City branch only.  Attachments to the van's roof racks to transport 3-4 pairs of snow skis or 2 snow boards.  These are lockable to help protect your snow gear. $7 per day. (Max. $98)
  *** All campervan rental equipment  is subject to availability – We cannot make any guarantees on the availability of extra camper van rental equipment and apologize in advance if your request cannot be met. ***