Campervan Rental Equipment & Tips
Not sure what campervan rental equipment you need for your next fun adventure?  Well Lost Camper vans come with tons of cool stuff to make your van camping trip fun and functional.   But if you need some more cool stuff to expand your navigation, storage and more, here's some great optional campervan equipment for rent.  
GPS Navigator – Garmin or Tom Tom Navigation units that are easy to use so you can't Get Lost!!!
$6 a day (max $66)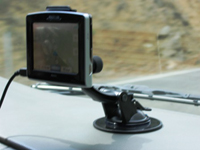 Roof Storage Bin – We use the Yakima space case for additional storage on top of the vehicles. This bin is a lockable container. You can store skis, snowboards and suitcases in the bin. The bin is 6ft in length and 2ft wide.
$10 a day (max $100)
Heavy Duty Yakima Rook Racks – Although we have roof racks on our vans, we recommend for safety and endurance, our heavy duty roof racks designed to hold kayaks and any other heavy equipment.
$5 a day (max $50)
Bike Racks – We have rear mounted Yakima bike racks designed to hold two bicycles. The rack also folds down to allow access to the back of the van.
$7 a day (max $98)
DC Powered Cooler – We offer a powered cooler that acts as a fridge. It saves you buying ice whilst on the road. The powered cooler has an auto shutoff when the vehicle's battery hits a low voltage point.
$5 a day (max $75)
Power Inverter – Our power inverter plugs directly into the lighter/power socket on our vans to provide a 110/240 volt AC power supply to power accessories i.e., laptop, cell phones.
$5 a day (max$35)
Sleeping Bag – Very warm sleeping bags for extra comfort and warmth while on the road. $30 one time fee.
Towels – One bath and one hand towel per set. $5 one time fee
Powered Heater – This provides heat for overnight camping, without running down the Van battery. This is for electric hookups at campgrounds only. Available upon request at no extra charge.
  *** All campervan rental equipment  is subject to availability – We cannot make any guarantees on the availability of extra camper van rental equipment and apologize in advance if your request cannot be met. ***